Serena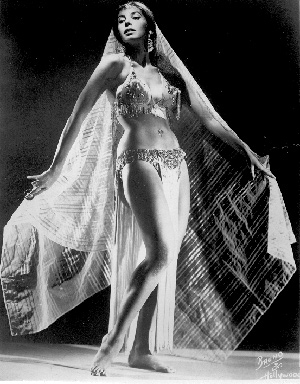 What can I say about this amazing woman? She was my mentor, instructor, belly dance mother, inspiration. She gave me my career and is the reason why I am who I am. I loved her with all my heart. Here is how I met her…
I took a class in the beginning of December 1978 with another instructor. I think it might have been Carnegie Hall. I thought it was a beginner level but it was not. It was a "fast beginner" level. I struggled to keep up in the class and mentioned afterward that she went a little too fast for a beginner level. She did not appreciate that comment and with a sarcastic tone she said, "Go to Serena. She's good with beginners." That's exactly what I did and the rest is history!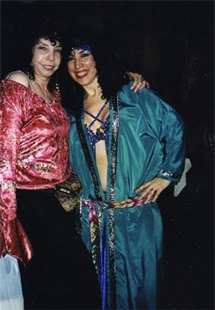 I called Serena Studios and found out there was a fundamentals class that Saturday morning. I remember walking into the studio and it was like taking a step back in time to a beautiful harem scene! Tapestries, lamps, paintings, statues — it was beautiful! I walked up to the woman behind the desk and said, "I'd like to take a belly dance class." As she was signing me in this beautiful, statuesque woman walked into the room and came over to me and said, "First we have to do surgery to take your ears out of your shoulders" as she pressed my shoulders down with her hands to elongate my neck. It was love at first sight.
I never left…
---
Sergio
"I'd like to tell you about a wonderful male dancer whose life was cut short all too quickly by cancer. He died in 1994 while in his early 30's. His name was Sergio. As a dancer he was charming and charismatic with a dance style that was powerful and magnetic. You just couldn't take your eyes off him. As a person he was sensitive, spiritual and really witty. He touched our lives in a profound way and was loved by many in our dance community. He is sorely missed. I will soon be adding a page to my website celebrating Sergio's life as a teacher, performer and friend…" – Layla from Platinum 5/06
"Sergio was not only a great dancer but also my friend, his love for the dance came from very deep inside of him, and the audience felt it. He was everybody's friend, a gentle soul and a warm human being." – Mimi, NYC

"I was fortunate to share the stage with Sergio in his prime and of course in my prime. We were a dance duet act for many years and he starred in many stage shows that I sponsored. What I most admired about Sergio was his incredible command of the Middle Eastern rhythms. He would excite the audiences to a frenzy and calm them mystically all at the same time. My love for him was as an artist and a generous human being. As I said, I was one of the fortunate ones." – Amara Al Amir, NYC
"Sergio was such a beautiful soul and his tenderness as a human being exploded in his fiery performances. We had a discussion once about where we feel the music. I told him I felt it in my sternum and he said that he felt the music in his gut. His was a gut reaction to the music… Remember how he sweat as he danced, wiping the sweat from his brow like a windshield wiper and then sprinkling the audience with it—the ladies would go wild! And how he magically made his veil appear from nowhere. Sergio, we miss his gentle soul, his mischievious smile and his fiery dancing…" – Aszmara, NYC
"He guest taught the advanced class at my studio on several occasions and also performed at one of my dance parties. We all loved him and his dancing!" – Anahid Sofian, NYC
"He was a very sweet and gentle person." – Serena, NYC
"When I think of Sergio, I smile. He was by far, one of the best dancers—male or female—that I have ever met. When I try to describe Sergio's dancing to my students, I cannot find the words that even come close to describing his talents. To see him sitting in an audience thick horned rimmed glasses, quiet, polite – then transform into the smiling, flirty, phenomenal "Sergio" 20 minutes later has always reminded me of the transformation one would see with "Superman". He certainly had the talents of a "Superman" on the dance floor. Sergio was high energy with moves that were crisp and clear. Timing was always precise. And Charisma?…well, he had a smile that would make you melt off of your seat. Yes, I remember Sergio! And he will always be alive within me every time I perform – he was such an inspiration!" – Shalimar, Belly Dance Connecticut
"I first met Sergio in 1975 at a seminar I was teaching for Sheri Miller in East Hartford, CT, when he was a student at the High School of Fashion Arts in Manhattan & was there to help Paul Monty with his vending & check out the Oriental costume designs worn at that time."
My class & performance fascinated him. He asked me if men can do this dance. "Of course!", I answered. "It's a folk/ social dance & the last time I looked, men are still folks, even though you guys don't always act like it."
He asked about my classes in NYC & started attending them the next week – I was in easy walking distance of his high school.
He was extremely talented & was also interested in the culture & history that goes with the dance, a very unusual thing at that time. Sergio quickly became a treasured friend."
"Dr. Paul Monty, the "inventor" & first sponsor of Mid-Eastern Dance seminars, was his mentor & quickly began featuring him as a solo performer at seminar concerts—the first in Chicago. I was teaching/ performing at that seminar. Sergio wowed the huge crowd!!!"
"He was the first lead male dancer in my dance company & you can see him in a performance with my Casbah Dance Experience at the Riverside Church Dance Festival, 1986 on my #1 video/DVD."
"While I still miss him sorely, I am comforted in knowing that he was very happy with his beautiful new house & life in San Jose, Costa Rica & that his end was quick, with little suffering."
"I'd like to believe that he's dancing away in heaven."
– Morocco, NYC