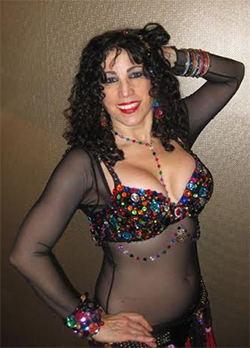 An alumnus of Serena Studios and Serena Dance Theater, Layla began her journey into this beautiful dance form in 1978 when she first met Serena Wilson art her famed studio, Serena Studios, in New York City. A life-long passion ensued from that meeting!
Layla has been performing New York Cabaret- Style Belly Dance for over thirty-five years and has appeared in such prestigious venues as Lincoln Center, Riverside Church, Queens Central Library Concert Series, United Nations, and 92nd Street Y Harkness Center. Layla has performed in Egypt, Europe, Canada, and the Caribbean, as well as throughout the Tri-State Area and West Coast.
A multi-level instructor, Layla teaches group classes, as well as private instruction with Finger Cymbals, Performance Preparation and Cabaret Karsilama, her workshop specialties. She has over thirty years of teaching experience throughout the NYC area. Layla is currently the director of student troupe, Veiled Visions Dance Ensemble, as well as a member of professional dance company, Kismet Dance Ensemble.